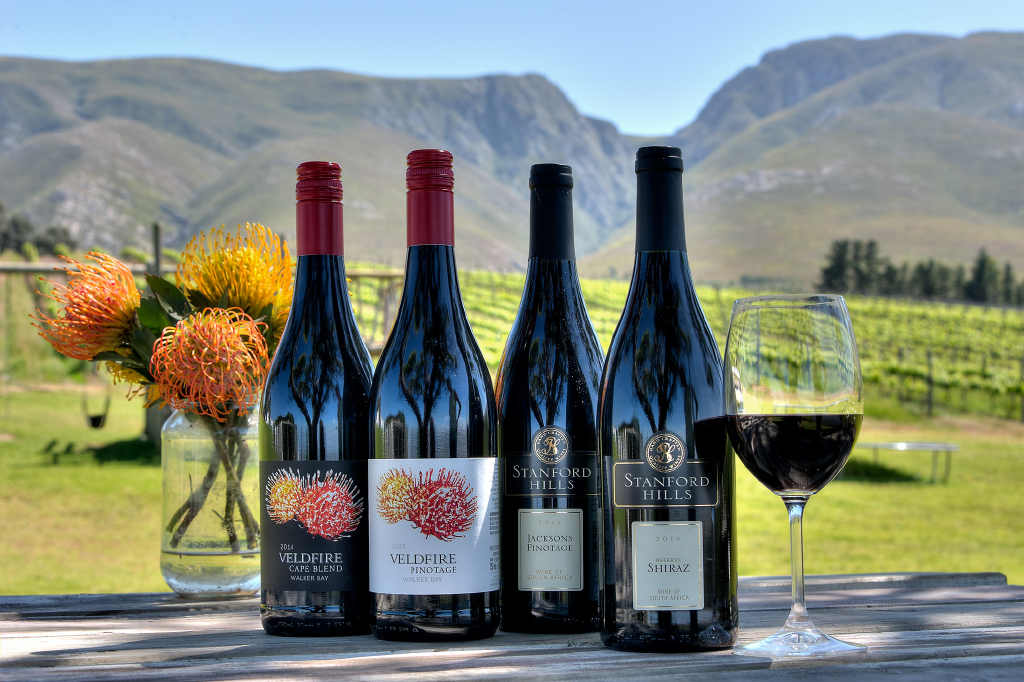 Stanford is a relatively new wine production area which is showing tremendous potential. The proximity of Stanford Hills Estate to the coast ensures cool sea breezes during the hotter months, allowing the grapes to gently ripen at optimal speed. Winemaker Peter Kastner believes that great wine is produced in the vineyard, and credits the wonderful soil and climate of the region for the quality of the Estate wines. All grapes used are produced on the farm itself and picked by hand to ensure only the best quality grapes are used for annual wine production.
The farm's first Methode Cap Classique is now available
Wine tasting is offered daily at The Tasting Room restaurant which also serves breakfast, platters and a selection of lunch options which change daily.
The somewhat basic cellar is located in one half of an airplane hangar on the farm. Peter believes in minimal interference during the winemaking process to allow the grapes to express their individual identity.
[pbr_productcategory category="wine" number="6″ columns_count="6″]
Peter and Jami Kastner are the owner-managers, who live on the farm with their two young boys, Jack and Alex (winemakers-in-training). Peter owned a restaurant and Jami a flower export company before 2005, when they sold up and invested with their family into what was then a portion of Weltevrede Farm, with four hectares of Pinotage for small production and one self-catering cottage for rental.
Today the estate is known as Stanford Hills, with 6 wine labels exported to 11 countries, a 100 seater restaurant and accommodation for 57 people. The farm is also a popular venue for weddings and hosts a variety of fun events and outdoor music events including their winter craft beer festival and the Stanford Stumble in November.
Peter has no formal wine training, but has learnt on the job, with what he describes as a pretty steep learning curve! He does most work by hand in the small cellar set in one half of an aircraft hangar on the farm, and believes in minimum interference to allow the grapes to express their own unique characteristics. He believes in the quality of the grapes, which are slow ripening due to the cool sea breezes in the area and carefully managed to give optimum yield. As he says "It's possible to make a bad wine from good grapes, but there is no way you can make good wine if your grapes aren't up to scratch."
Jami manages The Tasting Room, the estate restaurant, where the kids often help out too. She is a published author of Sam and Me and the Hard Pear Tree, published by Jacana, and has recently opened The Butterfly Centre in Stanford. This centre is a non-profit organization offering a variety of beneficial activities for children in the area with special needs.
Breakfast – placed in the tent for guests to prepare themselves
Breakfast Basket 'Cook Your Own':
R110 per person
Ingredients:
Freshly Baked Croissant served with preserves and butter, Homemade Muesli, Fresh Seasonal Fruit, Bulgarian Yogurt, Honey, Eggs, Bacon, Erwin's Homemade Cheese Griller Sausage, White and Brown bread, milk, juice.
Dinner – Placed in Tent for clients to prepare themselves
Traditional South African Braai Pack
R175 per adult
R87.50 per child
Ingredients:
200g Beef Rump Steak
Traditional Boerewors Sausage
Chicken Kebab
Locally produced beetroot and butternut Salad
Traditional Greek Salad
Homemade garlic and cheese Roll
Other Options
Stanford Hills has a very popular restaurant on the estate, The Tasting Room, which serves breakfast and lunch. Full range of chalkboard menu items available at on-site restaurant, menu also available as takeaways.
Personalized picnic baskets are also available, choose from Mezze menu or lunch time menu at The Tasting Room.
The surrounding area has a wealth of acclaimed restaurants, including Grootbos, Springfontein and Marianas.
Our tents sleep up to 5 guests, but our shared rates are based on a two-person stay. Please note that the rates below are just a price indication, use our online bookings calendar to check current rates and availability. Food & beverage and activities & tours are not included in the price, unless otherwise stated.
Please note that we have a minimum of 2 night stay for weekends, public holidays and peak season.
Rate per tent (pp)
Additional fee adults (pp)
Children fee (pp)
Season
Single
Shared
3rd
4th
5th
0 – 2
3 – 16
Low
990
495
200
200
200
Stay Free
100
High
1290
745
200
200
200
Stay Free
100
Peak
1990
995
200
200
200
Stay Free
100

Low season
1 May to 30 September 2017
High season
1 October to 15 December 2017
11 January to 30 April 2018
Public Holidays
Peak season
16 December 2017 to 10 January 2018